Blue Cross NC Drive for the Cure 300 Ticket Offer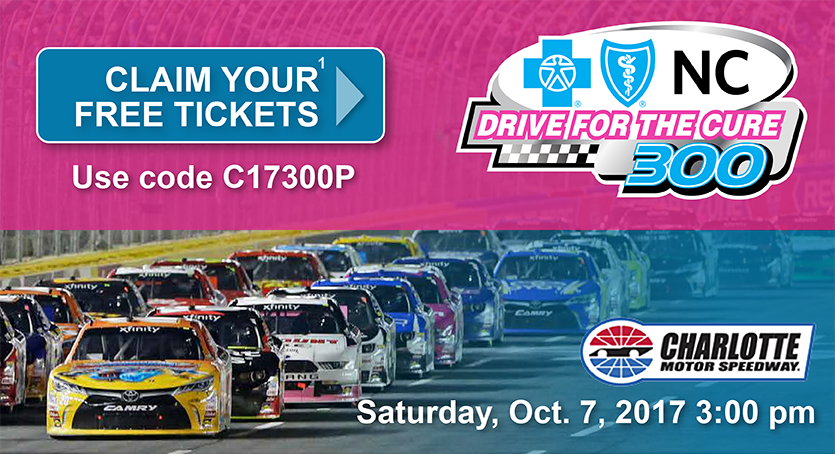 At Blue Cross NC, we work every day to improve the health and wellbeing of women. That includes offering a broad range of plans2 to help you Live Fearless. Here are just a few services and tools you'll find useful:
You Know What You Want: Good Preventive Care
We cover a range of preventive services, including pap tests, and mammograms to detect breast cancer. We also cover blood pressure and cholesterol screenings in support of heart health. Take action and take good care of yourself!
Tools for Health at Your Fingertips
Blue ConnectSM is an online tool to help you manage your health, and your children's health, easily. Use Blue Connect on your phone or tablet to look up a nearby urgent care, doctor's office or pharmacy. You can even compare costs of providers and learn more about your prescriptions.
Health Line BlueSM, 24/7 Nurse Hotline
Need professional medical advice in a hurry? Call Health Line Blue3 to speak with a registered nurse, any time of day or night. It's a free service to get fast advice for your care.
For complete information on health coverage from Blue Cross NC, visit bcbsnc.com.
1 Offer intended for those 18+ and legal residents of North Carolina only. Tickets compliments of Charlotte Motor Speedway. You do not need to be a Blue Cross NC customer to receive tickets. No purchase of an item is necessary to obtain tickets. No purchase of any Blue Cross NC product is necessary to obtain tickets. Two tickets per person. Available while supplies last.
2 Plans and benefits vary. Value-added programs may change or be discontinued. Visit bcbsnc.com for complete information.
3 If you have an issue that threatens your life or health, never wait. Call 911 or go straight to the nearest emergency room! Decisions regarding your care should be made with the advice of a doctor. Depending on your plan, selected programs may not be available to you at this time. Check with your benefits administrator or Blue Cross NC Customer Service to determine your eligibility. Blue Cross NC has contracted with an independent third-party vendor to bring you Health Line Blue.
®, SM Marks of the Blue Cross and Blue Shield Association, an association of independent Blue Cross and Blue Shield Plans. Other marks are property of their respective owners. Blue Cross and Blue Shield of North Carolina is an independent licensee of the Blue Cross and Blue Shield Association. U12490AB_6/17