ROVAL Infield Camper Information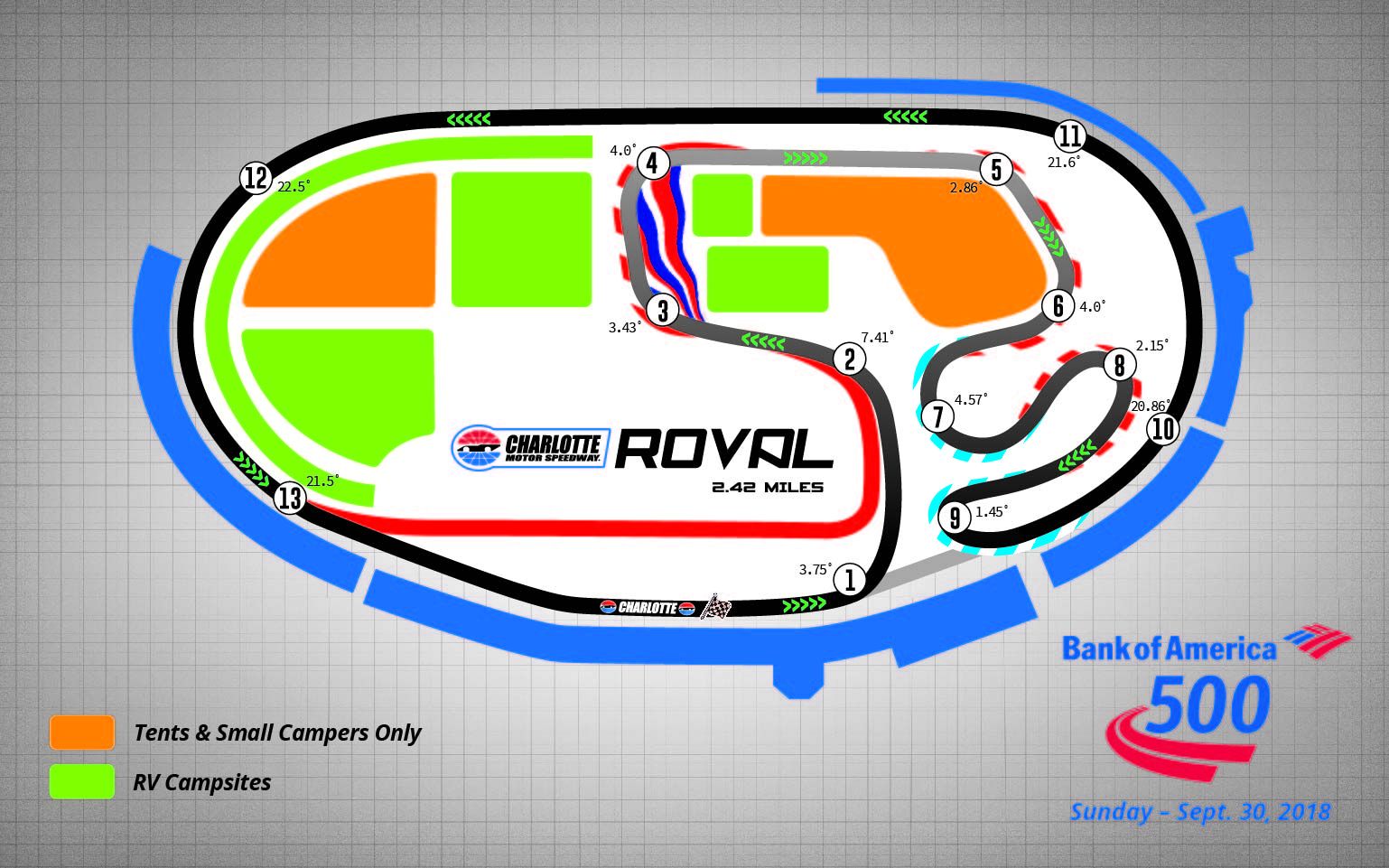 Dear Valued Infield Camper,
We are excited to announce that the 2018 Bank of America 500 race weekend will be run on Charlotte Motor Speedway's new ROVAL race course Friday, Sept. 28th - Sunday, Sept. 30th. The road course oval announcement carries with it several "firsts" for the sport and our track, including:
The first NASCAR road course race in Charlotte Motor Speedway's 58-year existence;
The final event in Round 1 of the Monster Energy NASCAR Cup Series Playoffs;
The first road course race in the 14-year history of the Playoffs;
The first Monster Energy NASCAR Cup Series race in September at Charlotte Motor Speedway;
The first "new" track on the Monster Energy NASCAR Cup Series schedule since Kentucky Speedway joined the circuit in 2011.
But with the new track configuration for that weekend, we must update the September 2018 campground layout to best promote spectator safety and entertainment. As always, we appreciate our fans' loyalty and continued support through the many exciting changes Charlotte Motor Speedway has made over the years.
As part of this email, you will find an Infield Campground overview for the 2018 Bank of America 500. Many of our favorite campsites will remain available for the ROVAL race. RV Trackside campsites will remain open featuring the same views you have come to know and love. In addition, surprising sites will be accessible in Turns 3-6 for an exhilarating first time experience.
The 2018 Bank of America 500 campsite selection process will be conducted on a priority basis. During on-site renewals and 60 days following the event, a $50 deposit will grant you an opportunity to be a part of the selection process. After your deposit has been placed detailed instructions will be provided to you on your selection date and time. A deposit does not guarantee that a campsite will be available to you at your selection date and time; all campsite allocations will be based on availability at the time of selection. We anticipate selling out of these camping sites very quickly, so be sure to act quickly!
We greatly appreciate your support and understanding as we take every measure to ensure that Charlotte Motor Speedway provides fans with the ultimate mix of entertainment and racing excitement! 
Any Further Questions Please Call 1-800-455-FANS(3267)