Fan Tips

Every NASCAR driver remembers his or her first start behind the wheel of a hulking Monster Energy NASCAR Cup Series machine. Whether it's your first start at Charlotte Motor Speedway or your first visit to The Greatest Place to See the Race, our helpful Fan Tips Guide will get you up to speed in a hurry.
Speed through it for tips on how to take full advantage of your time at the world's ultimate motorsports megaplex and while you're here, don't forget to download to download the CMS app for event updates, schedules and more fun, fan-friendly content!
NASCAR DRIVERS' TOP 10 FAN TIPS
WHERE DO I PURCHASE TICKETS FOR THE RACE? 
You can purchase your tickets through the Charlotte Motor Speedway ticket office, located on the second floor of Smith Tower. Ticket sales representatives are available at 1-800-455-FANS (3267) seven days a week or you can purchase tickets online. On race days, there are ticket offices open at select gates as well.
EVENT TICKETS RAIN CHECK:
In the event of postponement, event tickets will be honored for the rescheduled date. NO REFUNDS or EXCHANGES
AFTER I HAVE PURCHASED MY TICKETS, WHEN AND WHERE CAN I PICK THEM UP?; WILL CALL
Charlotte Motor Speedway NASCAR Events:
Tickets left for pickup at Will Call may be obtained by visiting the Will Call Window located at Gate 4. Purchased tickets made through the Charlotte Motor Speedway ticket office or Ticketmaster maybe picked up at any ticket location (Excludes VIP packages or packages that include parking proceed to gate 4).
zMAX Dragway NHRA events:
Tickets left for pickup at Will Call may be obtained by visiting the Will Call Window located at Gate 2. Purchased tickets made through the zMAX Dragway ticket office or Ticketmaster maybe picked up at any ticket location (Excludes VIP packages or packages that include parking proceed to gate 2).
Questions regarding Will Call should be directed to the Ticket Department at 1-800-455-FANS or 704-455-3200.
WHERE IS THE BEST PLACE TO PARK AT THE SPEEDWAY? 
There is free parking surrounding the entire speedway for your convenience. Check the parking and driving directions page to find the free parking area closest to your seats and/or your traveling point. 
HANDICAP PARKING:
We have reserved and unreserved handicap parking areas. All reserved handicap parking is sold in conjunction with a wheelchair reserved seat. Those parking areas are Ford and Toyota Fourth Turn Terrace. Please contact the Charlotte Motor Speedway ticket office at 1-800-455-FANS (3267) to purchase these passes. 
For unreserved handicap parking areas located on the front stretch, use parking directions to the Orange Zone. For the backstretch, follow the Green Zone directions.
NOTES: 
Speedway officials urge race fans to arrive at the track early. Use the extra time to tailgate, visit displays in the Fan Zone, and enjoy pre-race activities. If possible, plan your trip to arrive a couple hours before the race is scheduled to begin.
Turn to WSOC-FM 103.7 for up-to-the-minute traffic reports.
I-85 to Exit 49 (Bruton Smith Boulevard) is usually the most congested road on event days. Good alternatives are Hwy 29 from both the North and the South and Hwy 49 to Morehead Road.
HOW DO I GET TO THE SOUVENIRS? 
Located outside of Turn 1 near the speedway's main entrance, the Fan Zone includes the giant Fanatics souvenir tent with all the latest gear from NASCAR's most popular drivers, interactive games, and displays.
WHERE ARE THE NEAREST ATMS LOCATED? 
There are several ATMs located throughout the facility. Check your fan guide when you arrive at the speedway for locations along with our facility map.
WHERE IS LOST AND FOUND LOCATED?
Lost and found is located in the Ticket Service Department on the 2nd floor of the Smith Tower in the front of Charlotte Motor Speedway. Phone 704-455-3200 or email us at tickets@charlottemotorspeedway.com.
CAN I BRING A COOLER TO THE RACE? IF SO, CAN I BRING ALCOHOLIC BEVERAGES INTO THE SPEEDWAY? 
Guests may bring a 14" by 14" by 14" cooler into Charlotte Motor Speedway, zMAX Dragway and The Dirt Track containing food and beverage, provided that all substances contained in the cooler are legal and there are no glass containers or other potentially hazardous materials.
Coolers may be brought into the facility until one hour after the start of the race. *NASCAR Events Only
Coolers are not allowed in The Speedway Club, Smith Tower or any other club or corporate suites.
All coolers, backpacks and other types of carrying cases will be searched upon entry.
WHAT TYPES OF FOODS ARE AVAILABLE AT THE SPEEDWAY'S CONCESSION STANDS? 
A variety of foods such as nachos, hamburgers, and hot dogs can be found at concession stands located around the Speedway. There are also a number of independent vendors including pizza, barbeque, etc.
IS DRIVE-UP CAMPING AVAILABLE? 
Yes. All camping on speedway property is reserved, but race weeks operates on a first come, first-served basis. Each camping area is staffed with 24-hour security and is either located near a shower house or has shuttles running daily to our restroom/shower facilities. Premium camping spots sell out first, especially on major event weekends; advanced reservations recommended.
HOW DO I CONTACT SOMEONE AT THE RACE IN THE EVENT OF AN EMERGENCY? 
In the event of an EMERGENCY please call 911. Please locate the nearest speedway security representative or customer service representative to assist you. They are located throughout the facility and will gladly help you with this situation or call 704-455-3220.
WHAT ARE THE BEST WAYS TO REACH THE SPEEDWAY BEFORE THE RACE AND GET HOME AFTER THE RACE? 
The North Carolina State Highway Patrol, along with the North Carolina Department of Transportation, work hard to expedite traffic both in and out of the speedway. Their primary goal is to get you to the speedway before the race and to a major road as soon as possible. Please note that the Department of Transportation will counterflow traffic on roads surrounding the speedway for faster and more efficient traffic flow both in and out. 
THE FAN ZONE:
The Charlotte Motor Speedway Fan Zone is the place to be before the race! There, you'll find vendors, displays and a whole lot of fun. It is located in front of Gate 6-8, between the Ford and Grand National Grandstand. The Fan Zone offers activities and entertainment for all ages. You can easily access the Fan Zone by utilizing the FREE shuttle that runs around CMS.
KIDS ZONE:
 Dedicated to the kids in attendance, provides games and fun activities geared towards kids before the race.
FANATICS TENT:  
 If you were a fan of the souvenir haulers, you'll love the all-new souvenir-shopping experience in the Fanatics tent. Grab a basket on your way in, do your shopping, and check out all in one place. Plus, you can also pick up any race weekend necessities you might have forgotten at home, like sunscreen, sunglasses, hats and more!
CMS SOUVENIRS:
 Your race weekend experience won't be complete without leaving the track with some fancy new CMS souvenirs!  You can get event merchandise like tee shirts, hats, and memorabilia to commemorate the races.  Plus, you can get the official souvenir program at any of the merchandise locations on the concourse, in the infield or at the souvenir trailers. Purchase the program package, and receive a race 1:64 event diecast
VENDORS:
 With a plethora of vendors in the Fan Zone, there is sure to be something to spark your interest. 
DRIVER AUTOGRAPH OPPORTUNITIES: 
 Check our Web site, each driver's website, local newspapers and television for driver appearances/autograph sessions taking place around Charlotte prior to the race. Please keep in mind that on race day, drivers, like all athletes, are concentrating on the task ahead and are rarely available.
SCANNER/FANVISION RENTALS:
 Listen in first-hand to the communications between drivers and crew chiefs by renting a scanner and headphones or a FanVision device! They are available for rent at Racing Electronic haulers in and around the Fan Zone, infield, and on the concourse. 
DRIVER INTRODUCTIONS:
 The stars of NASCAR parade across the stage for a memorable moment prior to the racing action. Get your Driver Intro Pass to be down on the track when it all goes down.
Charlotte Motor Speedway has more than 20 concession stands located throughout the concourse. Serviced by Levy Restaurants, food options include traditional sporting event fare like hamburgers and hotdogs to specialty items that are unique to each race.
BEVERAGES: 
Charlotte Motor Speedway also proudly serves Coca-Cola soft drinks at all of its concession locations. Or, sip some ice cold beer available throughout the concourse. Light, pilsner or stout, there is sure to be a variety for everyone's tastes.
SPECIALTY STANDS: 
Specialty concession stands are located throughout the grandstand concourse and provide national and regionally recognized chains serving up their signature items for you to enjoy at the race. Papa John's Pizza, the official pizza of Charlotte Motor Speedway, and Bojangles Famous Chicken and Biscuits can be found at various locations throughout the concourse.
INFIELD CONCESSIONS: 
The infield concession location feature standards sports fare including hot dogs, hamburgers, nachos, pretzels and popcorn Near Champions Pavilion. In addition, Papa John's Pizza is also available as well as Bojangles Famous Chicken and Biscuits are located next to the Media Center. You can also find a Kangaroo Express, Just follow the rotating sign by turn 2.
DON'T FORGET:  
Have dietary restrictions or a unique brew you'd like to bring to the race? We've got you covered - or more specifically, you've got yourself covered. Charlotte Motor Speedway allows all fans to bring coolers into the race with them. Just pack it in, except for glass bottles, in a cooler no larger than 14"x14"x14" and you are all set.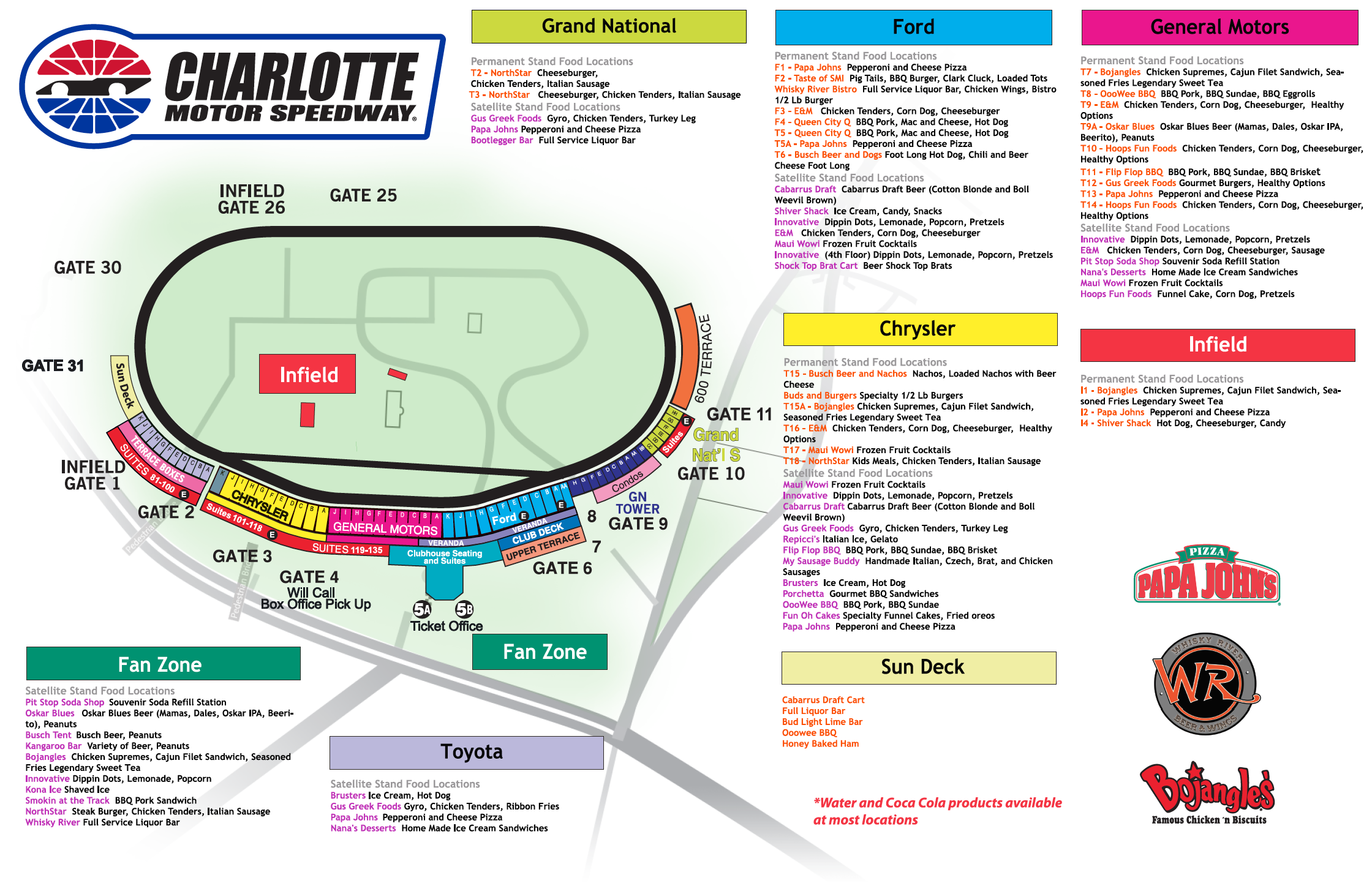 Seasoned NASCAR fans suggest first-time fans bring the following for Charlotte Motor Speedway's weekend of NASCAR racing:
Comfortable Shoes for Walking
Sun Protection (sunscreen and sunglasses)
Proper clothing for weather conditions
Permanent Markers for Autographs
Camera
Cell Phone
Cooler (must be 14x14x14 or smaller and may contain no glass objects.) 
Earplugs
Portable Radio to Listen to the race broadcast by Performance Racing Network 
Binoculars
There isn't a bad seat in the house to catch all the action-packed racing during the 10 Days of NASCAR Thunder. Of course, with NASCAR's best zooming by in an all-out battle for supremacy, you may not need the entire seat - only need the edge! Your comfort is our highest priority, so with these quick guidelines you'll be able to enjoy the race in style.
GATES:
You can enter Charlotte Motor Speedway at any of the main ticket booth gates and reach any grandstand seating section. The closest gates to each seating section are: Toyota 4th Turn - Gates 31, 1, & 2; Chrysler - Gates 2 & 3; General Motors - Gates 4 & 5A; Ford/Ford Upper Terrace- Gates 5B,6, & 7; Grand National Tower- Gates 8 & 9 ; Grand National South- Gates 8 & 9
Coolers: Charlotte Motor Speedway is the only major sporting venue in North Carolina to keep coolers a priority for fans! For a quick and easy snack or drink, pack a cooler no larger than 14"x14"x14" containing no glass bottles and you're all set.

REFRESHMENTS:
It's always important to hydrate before, during and after the races! Charlotte Motor Speedway has a multitude of concession stands located throughout the concourse. Serviced by Levy Restaurants, food options include traditional sporting event fare like hamburgers and hotdogs to specialty items that are unique to each race. Charlotte Motor Speedway also proudly serves Coca-Cola soft drinks at all of its concession locations.

SOUVENIRS:
Exclusive race weekend shirts, hats, merchandise and souvenir programs are available at souvenir stands on the concourse and in the infield. Select stands will have vintage items available in the closeout bin, while other stands will offer a limited number of items from a handful of drivers. Additionally, a wide range of souvenirs, including driver-specific gear, will be available in the Fanatics tent outside the track near the Fan Zone.

HISTORY:
Built in 1960, Charlotte's iconic 1.5-mile superspeedway is home to innovation and excitement. The speedway has hosted numerous historic events including the first 600-mile stock car race; the first world premiere of a major motion picture at a race track and the first night race on a superspeedway. Monster Energy NASCAR Cup, XFINITY and Camping World Truck Series racing. NASCAR events highlight the schedule in May and October, but the sprawling facility also hosts numerous other activities. Check out our website for more details!