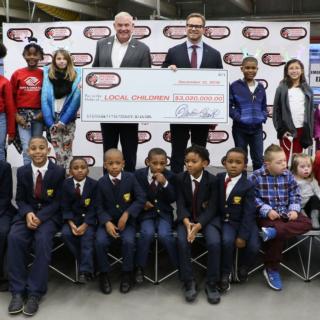 Friday December 14, 2018
Speedway Children's Charities will distribute more than $3 million in grants to 450 charitable organizations across the country this year.
Recent Headlines
12/12/18

Speedway Children's Charities (SCC), in a special grant distribution ceremony on Wednesday, announced that the nonprofit's Charlotte Motor Speedway chapter distributed $1,040,350 in grants.

11/28/18

In recognition of outstanding leadership and performance across its premier motorsports facilities, Speedway Motorsports, Inc. (NYSE: TRK) officials named Las Vegas Motor Speedway, led by President and General Manager Chris Powell, as Speedway of the Year; while Executive Vice President and General Manager Greg Walter and the team from Charlotte Motor Speedway was recognized as Promoter of the Year.

11/20/18

After enjoying the spoils of Thanksgiving, race fans will have a golden opportunity to enjoy major savings on merchandise at Black Friday Blowout.

11/20/18

Charlotte Motor Speedway named Jonathan Coleman, director of publicity and communications, as its 2018 Employee of the Year.

11/18/18

With a caravan of race fans following him, Charlotte Hornets forward Marvin Williams led the first parade through Charlotte Motor Speedway's remarkable ninth edition of its Speedway Christmas light show on Sunday.