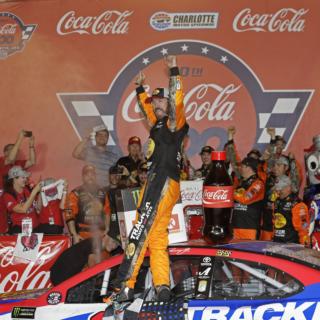 Monday May 27, 2019
Martin Truex Jr.'s Bass Pro Shops-sponsored Toyota was tough to reel in for much of Sunday's 60th Coca-Cola 600 at Charlotte Motor Speedway.
Recent Headlines
05/26/19

Speedway Motorsports, Inc. unveiled a new initiative Sunday before the Coca-Cola 600 that is designed to help members of the military make the transition back to civilian life.

05/26/19

As part of its ongoing efforts to support the U.S. Armed Forces, Speedway Motorsports, Inc. (NYSE:TRK) unveiled on Sunday its plans for Welcome Home Patriots, an initiative to improve the lives of active and post-servicemen and servicewomen.

05/26/19

In a special ceremony on Sunday, Charlotte Motor Speedway honored the accomplishments of legendary NASCAR artist Sam Bass, who passed away in February.

05/25/19

Logan Schuchart's car was as wide as his eyes in the last lap of Saturday's United Rentals Patriot Nationals at The Dirt Track at Charlotte.

05/25/19

Tyler Reddick could not be tamed in Saturday's Alsco 300 at Charlotte Motor Speedway.