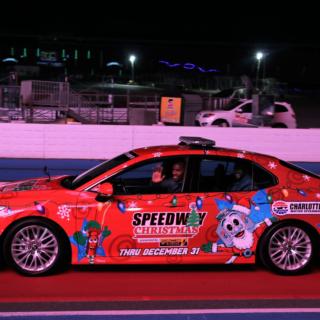 Sunday November 18, 2018
With a caravan of race fans following him, Charlotte Hornets forward Marvin Williams led the first parade through Charlotte Motor Speedway's remarkable ninth edition of its Speedway Christmas light show on Sunday.
Recent Headlines
11/16/18

After enjoying the spoils of Thanksgiving, race fans will have a golden opportunity to enjoy major savings on merchandise at Black Friday Blowout.

11/13/18

When Charlotte Motor Speedway opens its doors for the eighth annual Speedway Christmas presented by Disconnect and Drive this weekend, fans will be treated to the biggest and brightest holiday lights spectacle yet at the iconic speedway. Ushering in the return of one of the Southeast's largest and most-anticipated holiday traditions, the show kicks off Saturday with the Egg Nog Jog, a holiday-themed 5K run through the lights, before visitors from across the country descend on the twinkling track for the drive-through show, which runs nightly through Dec. 31, but is closed Christmas Day.

11/12/18

As the holidays draw near, Charlotte Motor Speedway is revving up for an eye-catching holiday light show spectacular. Speedway Christmas Presented by Disconnect and Drive returns Sunday with a remarkable 3.5 million lights spanning a 3.75-mile course throughout the speedway, infield and concourse - which will surely rev up America's Home for Racing with an extra dose of Christmas cheer.

11/09/18

In just over a week, Charlotte Motor Speedway will cut the red ribbon to open one of the nation's largest holiday light shows.

11/07/18

Charlotte Motor Speedway has named Senior Director of Business Development Mike Jones as its 2018 Salesperson of the Year.