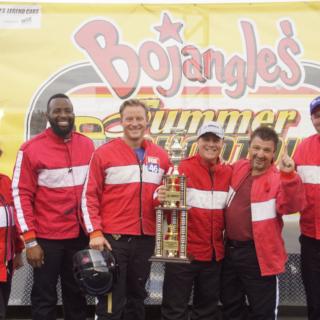 Tuesday June 25, 2019
NASCAR star Bubba Wallace made a triumphant return to Victory Lane at Charlotte Motor Speedway and WBTV's "Hurricane" Al Conklin swept through a school bus slobberknocker in an action-packed night of Bojangles' Summer Shootout excitement presented by Lancaster's BBQ on Tuesday.
Recent Headlines
06/23/19

Amid ongoing preparations to become "ROVAL™-ready" for the second running of the historic Bank of America ROVAL™ 400 on Sept. 27-29, Charlotte Motor Speedway officials on Sunday announced groundbreaking changes to the 2.28-mile road course oval's backstretch chicane.

06/21/19

Natural talent behind the wheel? Check. Winning personality? Check. Supportive race team? Check. Those qualities are what it took to motivate 15-year old Hollywood, California, native Justice Calabro to pursue his passion for speed at America's Home for Racing.

06/20/19

Famous names like Earnhardt, Petty and Waltrip have enjoyed the spoils of victory at Charlotte Motor Speedway.

06/18/19

An unpredictable, slam-bang Boston Reid Real Estate Pro division feature joined NHRA star Angie Smith's successful High Heel Dash as highlights of a memorable third night of Bojangles' Summer Shootout action on Tuesday at Charlotte Motor Speedway.

06/14/19

Isabella Robusto is easy to see on and off the track. The 14-year-old Fort Mill, South Carolina, native returned to the Bojangles' Summer Shootout at Charlotte Motor Speedway for her sixth season aboard a tie-dyed WIX Filters Legend Car.