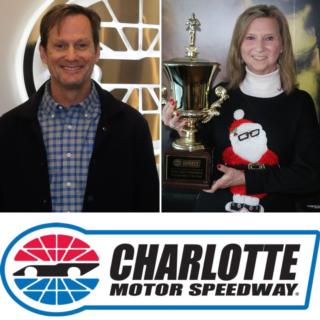 Wednesday December 18, 2019
Charlotte Motor Speedway has named Senior Director of Business Development Tracy Rich as its 2019 Corporate Salesperson of the Year and Phylis Lipford as the 2019 Ticket Salesperson of the Year.
Recent Headlines
12/11/19

Santa's elves have been hard at work on Speedway Christmas presented by Cook Out since the spectacular Christmas light show's opening night on Nov. 22 at Charlotte Motor Speedway.

12/06/19

Charlotte Motor Speedway Executive Vice President and General Manager Greg Walter was named Promoter of the Year this week during a Speedway Motorsports Awards Ceremony in Nashville.

12/04/19

In a continued effort to recognize excellence across its motorsports entertainment properties, Speedway Motorsports officials have announced promotions for three senior executives. Jessica Fickenscher has been promoted to Chief Experience Officer; Kevin Camper to Chief Sales Officer; and Steve Swift to Senior Vice President of Operations and Development.

12/02/19

In a special grant distribution ceremony on Monday, Speedway Children's Charities (SCC) announced that the nonprofit's Charlotte Motor Speedway chapter distributed $957,323 in grants to 68 deserving charities located throughout the Charlotte region. Nationwide, Speedway Children's Charities distributed over $2.9 million across its eight chapters in 2019.

11/25/19

After getting their fill of Thanksgiving food, race fans can feel the thrill of driving on Charlotte Motor Speedway's high-banked turns when Black Friday Blowout returns from 8 a.m.-4 p.m. on Friday.
More News