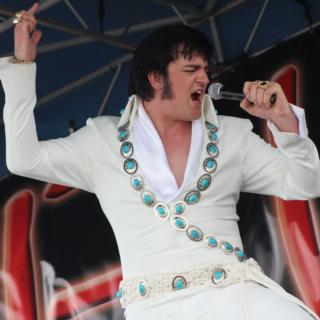 Friday February 14, 2020
Put on your blue suede shoes, showcase your performing talents and sing like "The King" with thousands of Elvis Presley fans and car lovers at the April 2-5 Pennzoil AutoFair at Charlotte Motor Speedway.
Recent Headlines
02/12/20

In an effort to align executive leadership roles within its ever-evolving business model, Charlotte Motor Speedway officials have announced personnel promotions among its Events, Guest Services and Operations teams.

02/07/20

Fans who've longed for the chance to drive on Charlotte Motor Speedway's hallowed pavement will have the opportunity at the speedway's Cars and Coffee event on Saturday, Feb. 15.

02/07/20

With a nod to some of the nation's foremost car enthusiasts, Charlotte Motor Speedway will add a new wrinkle to the Pennzoil AutoFair on April 2-5.

01/27/20

Charlotte Motor Speedway began its 60th anniversary season in dynamic style on Monday, with Team Penske drivers Joey Logano, Brad Keselowski and Ryan Blaney joining Wood Brothers Racing's Matt DiBenedetto and world-class Chef Robert Irvine for announcements and preseason festivities.

01/27/20

Charlotte Motor Speedway's historic 60th anniversary season will feature more spectacular events and family-friendly thrills than any year in the speedway's illustrious history.
More News