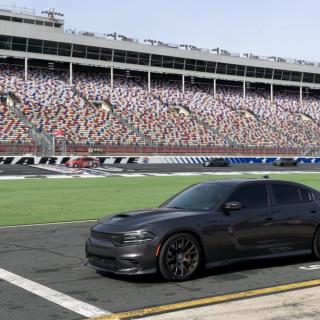 Friday January 18, 2019
Charlotte Motor Speedway and Speedway Children's Charities have something brewing on Feb. 16.
Recent Headlines
01/04/19

Speedway Motorsports, Inc. (NYSE: TRK) officials have named Matt Greci, Charlotte Motor Speedway Executive Director of Events, as the O. Bruton Smith Award recipient for 2018.

12/19/18

America's Home for Racing will become America's Home for All Things Automotive in 2019, as Charlotte Motor Speedway rolls out new events and tweaks its current schedule to bring even more full-throttle excitement and entertainment to an already action-packed event lineup at the iconic superspeedway.

12/14/18

Speedway Children's Charities will distribute more than $3 million in grants to 450 charitable organizations across the country this year.

12/12/18

Speedway Children's Charities (SCC), in a special grant distribution ceremony on Wednesday, announced that the nonprofit's Charlotte Motor Speedway chapter distributed $1,040,350 in grants.

11/28/18

In recognition of outstanding leadership and performance across its premier motorsports facilities, Speedway Motorsports, Inc. (NYSE: TRK) officials named Las Vegas Motor Speedway, led by President and General Manager Chris Powell, as Speedway of the Year; while Executive Vice President and General Manager Greg Walter and the team from Charlotte Motor Speedway was recognized as Promoter of the Year.