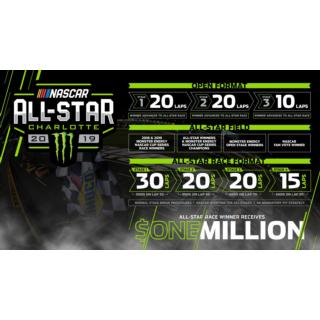 Wednesday April 17, 2019
Race fans looking for a glimpse into the future need look no further than this year's Monster Energy NASCAR All-Star Race at Charlotte Motor Speedway.
Recent Headlines
04/17/19

Ryan Newman will battle for his first Coca-Cola 600 victory in the historic event's 60th running on May 26, but the tenacious Coca-Cola Racing Family driver witnessed a different form of battle preparation on Wednesday at Fort Bragg.

04/11/19

It was "Anchors Away" for Charlotte Motor Speedway and Mission 600 on Thursday.

04/10/19

04/07/19

A son continued his father's legacy on Sunday at the Pennzoil AutoFair at Charlotte Motor Speedway, when Ronnie Jenkins and his red 1965 Corvair Corsa claimed Walt Hollifield Best of Show honors.

04/03/19

From drift car ride-alongs to burnout contests and meet-and-greets with a former Ms. Winston Cup, attendees at this weekend's Pennzoil AutoFair will have plenty of fun things to do during the world's largest automotive extravaganza at Charlotte Motor Speedway.