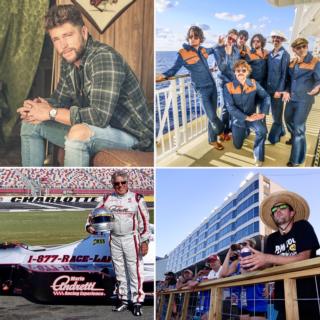 Thursday September 19, 2019
The second running of the hotly anticipated Bank of America ROVAL™ 400 is only 10 days away from roaring to life at Charlotte Motor Speedway.
Recent Headlines
09/18/19

Alongside hundreds of pink shirt-wearing breast cancer survivors, seven-time NASCAR Cup Series champion Jimmie Johnson joined NASCAR Xfinity Series title contenders Tyler Reddick and Justin Allgaier in painting Charlotte Motor Speedway's pit wall pink on Wednesday.

09/16/19

The Charlotte Motor Speedway ROVAL™ will have a decidedly local look when the Bank of America ROVAL™ 400 race weekend gets underway on Sept. 27.

09/11/19

In a moving salute to America's heroes on Sept. 11, Charlotte Motor Speedway and The American Red Cross began the speedway's Laps for Life blood drive on Wednesday by honoring those who lost their lives in the attacks 18 years ago.

09/09/19

Fans seeking to kick their Bank of America ROVAL™ 400 weekend into high gear will have a golden opportunity to crank up the volume on Saturday, Sept. 28.

09/04/19

Professional Bowlers Association star Jason Belmonte has rolled 23 perfect games, but the thrill of a 300 could barely compare to the rush of riding around the Charlotte Motor Speedway ROVAL™ on Wednesday.
More News