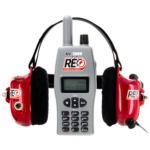 Scanner Rental
Curious about what drivers talk about during the race?
Hear uncensored in-car audio with a scanner rental from Racing Electronics!
All scanner rentals need to be secured in advance before you arrive at the track for the race weekend
Walk-Up rentals will not be available
Call the ticket office to add a scanner to your tickets!
Scanner with 2 sets of traditional headphones: $50