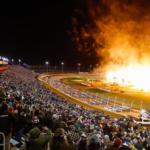 Four-Day Tickets
Don't miss one lap of dirt-flying sprint car, big-block and late model action!
Each 4-Day ticket package includes a complimentary pit pass (If purchased prior to Sept. 1, 2022). If available single day event tickets will go on sale at a later date. 
Pit Pass Policy
Any person ages 0-17 are welcome in the pits with a pit pass.
Any person ages 0-6 are FREE with a paid adult pit pass.
Minors ages 0-17 must follow Charlotte Motor Speedway minor release waiver policy:

Minor waiver sheet completed with the required signatures (ONE parent must be present and sign waiver of liability).
OR Waiver sheet completed and notarized with the required ONE parent signature IF both parents or legal guardians are not present. Waiver of liability instructions and downloadable waiver sheet is available online

If you have any questions please call 1-800-455-FANS.